Simplicity Dynamic Reinforcement Details

r. 3.2.3 - Compatibile con Revit 2019 - 2020

A significant update to Simplicity Dynamic Reinforcement Details has been released.
You can download and install the new release, free of charge, on all computers on which a previous Simplicity version has already been activated. 
What's new in this release
Rebar dimension parameter
Now you can select rebar segments dimension: (midlane length or outside line length).
Use Setting command
Rebar dimension parameter with hook
| | | | |
| --- | --- | --- | --- |
| Midline set | | Outside line | |
Import Legends from Standard.rvt
Open CCPr_Standard.rvt and copy useful legends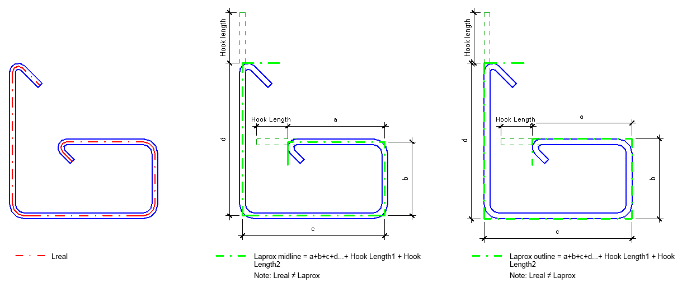 Sections creation tools
 

Create element sections throw the new command.

Select element (Foundation, frame, column). Simplicity will create sections. Sections will be opened in tile view (closing other views).

After using Create Element Section command the views created will form an Element view set. Check and open view set for each element
Each view set can be reopen throw the command Element tree.
Simplicity Dynamic Reinforcement Details
---
Simplicity is a plug-in for Revit © Autodesk available from the Autodesk App Store
Simplicity helps you to create drawings of reinforced concrete structures. Enter the 3D reinforcement with Autodesk® Revit® tools, then Simplicity makes it extremely quick and easy.
Add reinforcing details dynamically linked to Revit rebar. The details represent the shape of the bars and other main dimensional characteristics.
Add annotations to reinforcement details dynamically linked to the Revit rebar. Annotations are connected to reinforcement details and indicate the main rebar characteristics.
Create convenient summary tables.
Every detail is dynamically linked to the Revit rebar. Changing the rebar, changes the details, so the design remains consistent. 
Simplicity can insert both built-in families and external families in the document. A powerful tool creates the reinforcing details needed to represent linked rebar, when appropriate families are not defined in the document.
Any updates to the plug-in, subsequent to the release date of the basic version, can be obtained by clicking on the link in the Download column, taking care to verify that the requirements are met. 
Warning !
Updates available on this page require Simplicity plug-in to be installed on your pc.
Download Simplicity 30 days free trial  from Autodesk App Store.
---